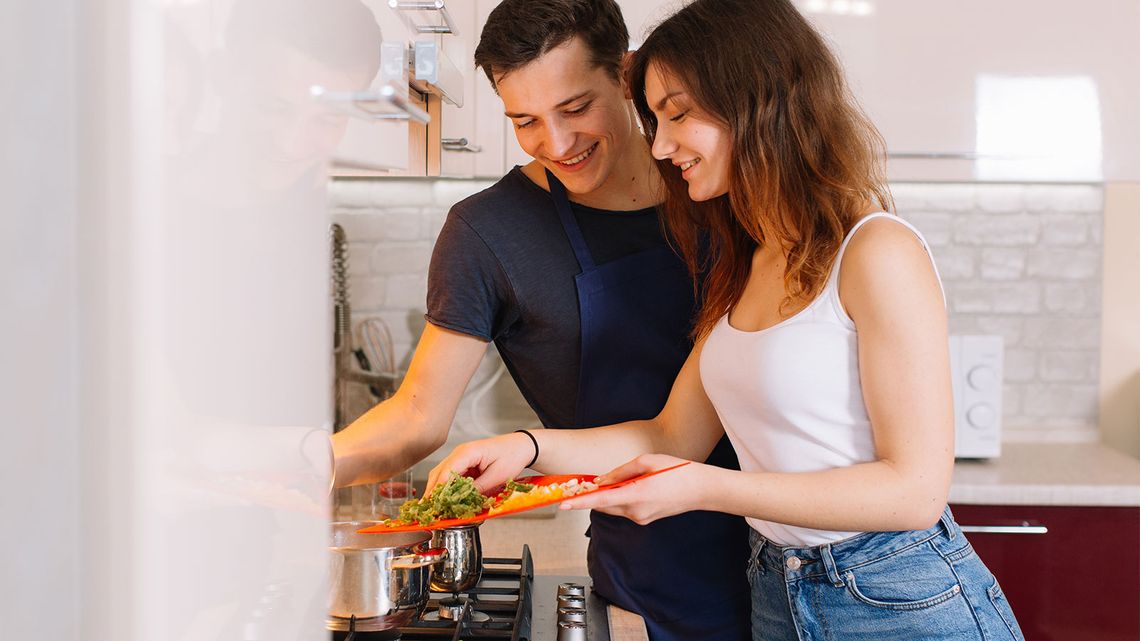 08/02/2022 by CB Domestics 0 Comments
Valentine's 'Date-Night-In' Ideas for 2022
This Valentine's Day, make your evening special by planning in advance and ensuring that everything is in place for the perfect, romantic evening. 


Valentine's Day falls on a Monday this year, so you may choose to celebrate during the weekend before the 14th, or on the Monday evening itself. Due to the pandemic, many of us have become used to having night's in rather than night's out, so we have come up with a few ideas and tips to help you plan a date night with a difference.  

Romantic home cooked dinner for two
 If you are planning a romantic date night for two and would prefer to cook at home instead of visit a restaurant, the possibilities are endless! Cooking for the one you love is a wonderful way to show them how much you care by putting your efforts into making their favourite meal. 
 
Find the perfect recipe. If you have a cookbook laced with ideas for quality home cooking, start here and plan your shopping list. If you don't have a book for reference, there are a plethora of online resources you can go to, simply by searching for recipes online.  

Buy your ingredients a couple of days in advance and plan your courses, preparing something for a main and dessert, or if you really want to go the whole 9 yards, also plan your other courses and be sure to add an alcoholic and non-alcoholic option. You should also take note of any special dietary requirements that your date may have (and if the meal you prepare is a surprise, try to subtly drop 'likes & dislikes' into the conversation in advance so your date doesn't get suspicious!). 
 
Easy Meal Options  
If you are not confident with home cooking, there are some fantastic ways to prepare a delicious meal without cooking completely from scratch. Why not purchase a 'meal deal' from a popular supermarket, where you can often by a main dish, side and a dessert and a bottle of wine for £10 to £20. This way, there will be less preparation and you can still enjoy tasty food that will have the essence of home cooking and save you some time on the night to enjoy spending time with your loved one.  

Dressing the Table 
The food is just one part of your meal experience. You may also wish to examine and prepare the atmosphere or ambience, to make your Valentine's date feel even more special. Dress the table, choose your crockery, make sure you have the correct glasses for your drinks and put some candles on the table to help set the mood. This will really impress your partner.  

Make sure your oven is clean and working  
You can avoid any mishaps on the night which could prevent your meal from turning out the way you had planned! It is recommended that you clean your oven the week before and be sure to check that everything is working correctly. Depending on when you last had your oven checked, repaired or serviced – you may wish to arrange for the oven to be professionally cleaned or serviced before the big day, to prevent your meal being ruined on the night.  

Prepare some entertainment 
Music often helps to set the mood, so be sure to choose a playlist which speaks volumes about your relationship and sends that romantic message. If your budget allows, you may even wish to hire a musician to play for you throughout your meal. Although your dinner will be the main part of your evening, you may also wish to prepare some entertainment for afterwards, to help keep the conversation flowing.

You could be a movie person, or you may wish to have a card or board game at the ready to enjoy after your meal. You could also buy your date a gift which contribute to your evening entertainment, and plan for them to open it during or after dinner.  

Kitchen Appliance Support 
By following these steps, you will be sure to impress your date or partner and create an unforgettable date night in for Valentine's Day that runs smoothly and is a great success.  

If you need help to get your oven, or any of your kitchen appliances repaired in time for Valentine's Day, give our friendly, expert team a call on 01722 711372 or use our online contact form.  



Feed