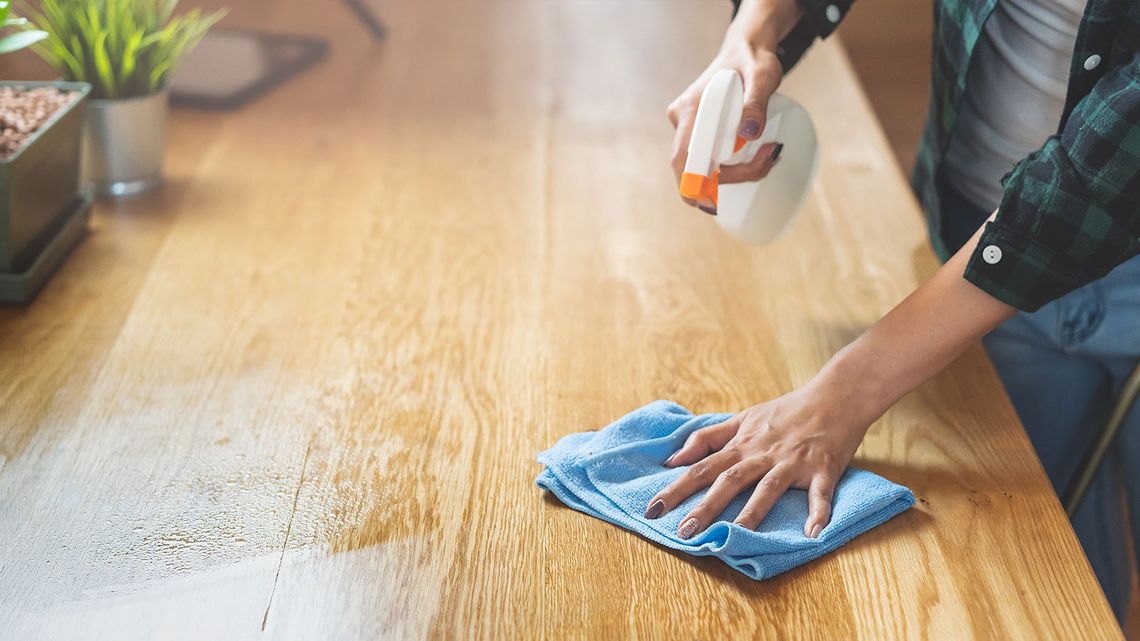 08/06/2021 by CB Domestics 0 Comments
How to Clean Your Kitchen in Less Than 20 Minutes
Your kitchen is most likely the centre of your home, bringing family together to enjoy one another's company or spending time experimenting with new recipes. As a result, mess can accumulate very quickly.
Deep cleans are important for keeping your appliances in working condition, however many of us have busy lifestyles that make regular thorough cleaning an impossible task.  Instead, finding a cleaning routine that seamlessly fits into your week is a great solution for keeping your kitchen feeling new while taking care of domestic appliances. 
In this article, we will break down the secrets to speed cleaning your kitchen in less than 20 minutes, with printable checklists of what products to keep stocked in your cupboards and top tips for keep your kitchen feeling as good as new. 
What cleaning products do I need? 
Keeping your cupboards stocked with these products will not only ensure you have what you need for a successful speed clean, with hundreds of cleaning products on the market, it will also ensure you don't spend more money than you need on trialing different items: 
Vacuum cleaner 
Microfiber cleaning cloth
Microfiber polishing cloth
Norewex micro pads 
Toothbrush
All-purpose spray
Dish soap/dishwasher detergent 
We recommend you keep all these products in one place, perhaps underneath the kitchen sink in a basket, to reduce time spent cleaning even further. 
Speed Cleaning Checklist 
Put away food items

 – put any leftover food into airtight containers and store in the fridge and organise miscellaneous items in cupboard for easy access. 
 

Wash dirty dishes

 – fill the sink with warm and soapy water to soak stubborn pots and pans, scrape leftover food into bin before rinse remaining dishes or place into dishwasher. Once complete, use toothbrush to clean crevasses in sink and wipe down with microfiber cloth. 
 

Throw away rubbish

 – sort all trash into recyclable and non-recyclable bins, rinse recyclable containers before placing in bin. 
 

Wipe down surfaces

 – using the all-purpose cleaner, spray down table and countertops before wiping with microfiber cloth. Check outside of cupboards and walls for accidental food spills. 
 

Clean kitchen appliances

 – gently wipe appliances with a damp cloth, and use polishing cloth to finish. For tough grime on stove, use norwex micro pad. 
 

Sweep/vacuum the floor

 - now surfaces are cleared, clean floors of any crumbs or spills. 
 

Rinse dish cloths

 – place towels in laundry, dirty brushes and sponges can be placed in dishwasher for disinfection. 
 

Empty bins

 – do this as the last step to ensure all rubbish is cleared from the kitchen. 
CB Domestics top tips for cleaning 
To minimise the time spent scrubbing kitchen surfaces, clean spills as quickly as possible after they have been made. It is also handy to keeping surfaces clear of clutter, as it gives you less space to work and makes it harder to keep it clean.  
 
Another helpful tip is encouraging your household to pitch into the cleaning. There are lots of little cleaning tasks that anyone can do in a short space of time, such as putting the dishes into the dishwasher and putting leftover food away straight after a meal, so getting everyone to improve their cleaning habits slightly can make a big difference to the overall look and feel of your kitchen. 
For specialist advice on how to clean specific appliances, or if you have noticed an issue with your appliance recently, speak to one of our experts as CB Domestics. We will be happy to advise you on what action to take, whether that is a repair or replacement of that appliance. 
Feed