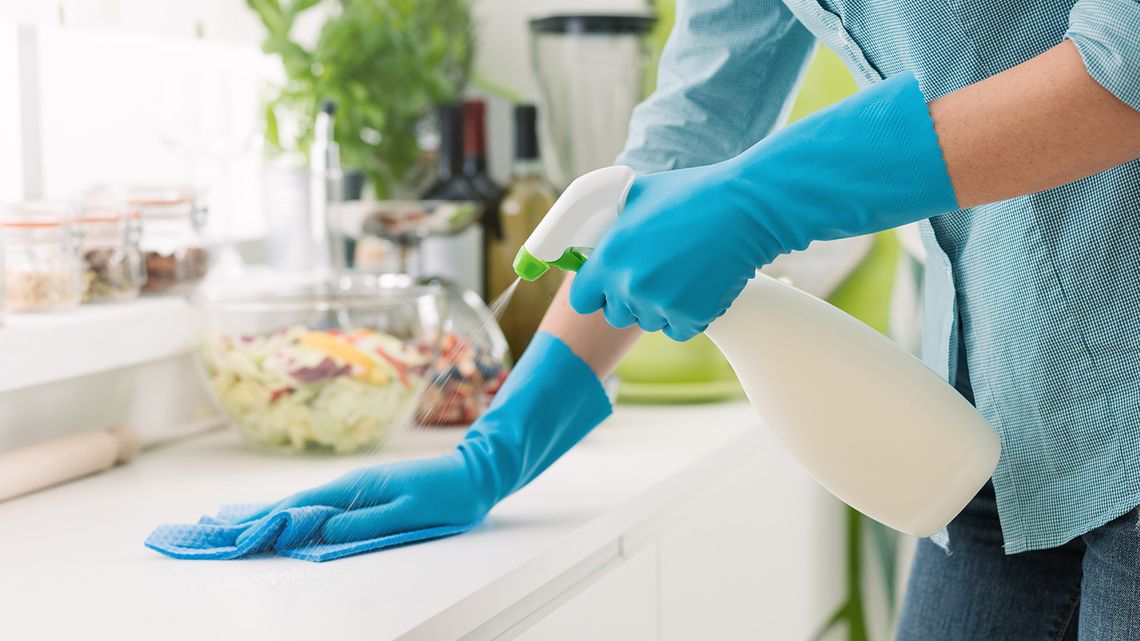 24/05/2022 by CB Domestics 0 Comments
5 Tips for Spring Cleaning Your Kitchen
Now that spring is well and truly here, it's time for a spring clean of your kitchen. Here are five top tips for getting your kitchen into shape before summer. 
Deep clean your fridge  
Fridges can harbour a surprising amount of dirt, so it's essential to keep them clean. You should deep clean your fridge every few months to ensure your food is being kept in a safe and sanitary environment.  
Start by emptying out all food from your fridge – including everything from inside fridge doors. Then, take out each shelf and wash with warm water and an anti-bacterial washing up liquid. Do the same with the drawers and inner door shelves, and ensure they are thoroughly dry before they are returned. 
While the fridge is empty of shelves and drawers, wipe the inside of the fridge with a clean cloth and an antibacterial cleaning spray. When all components are dry, you can return the food to a sparkling clean fridge. 
Clean your oven  
Cleaning the oven is a task that fills many with dread. Months of cooking can leave your oven with residual food and grime on your oven's interiors. To clean your oven effectively, it's best to invest in a high-quality oven cleaning product. Apply it to your oven's interior and shelves, as per the instructions, and leave it to work before scrubbing it off.  
If you don't clean your oven regularly, both the taste of your food and the efficiency of the appliance can be affected. 
Clean your dishwasher  
Cleaning your dishwasher might seem counter intuitive, but like all cleaning appliances, dishwashers require regular cleaning themselves. If you don't keep your dishwasher clean, it can become blocked with residual food, start to smell and even fail to clean your dishes properly. 
There are specialist dishwasher cleaning products designed especially to remove dirt and grime. Don't forget to wipe the interiors of the dishwasher with a cloth and antibacterial spray. To ensure your dishwasher is sparkling clean, you'll need to remove the filter to empty it of food before washing it separately.  
You should also clean the seal around your dishwasher door – this can harbour dirt and grime which can cause an unpleasant smell if left untouched. 
Declutter  
One of the most satisfying tasks to complete in any room of your home is decluttering. As the heart of the home, the kitchen can become a hub for clutter. No spring clean is complete without a thorough cleanse of clutter that has built up over the winter months. You should aim to have all surfaces entirely clear – put away any essential clutter in cupboards and drawers if you can.  
Recycle or throw away any non-essential clutter. After all, a tidy home is far more relaxing than a messy one. 
Deep clean all kitchen surfaces  
Once you've decluttered your kitchen surfaces, it's time to give them a thorough clean. Wipe down worktops and cupboards with an antibacterial cleaning spray. For tougher stains, use a stronger bleach-based product to get your kitchen sparkling. 
Don't forget to clean your sink thoroughly and remove any limescale from the taps. 
 
If your appliances are in need of repair or replacement, get in touch with CB Domestics today.
Feed